7 Steps to Start a Dog Accessory Business (1st $1,000 in Sales)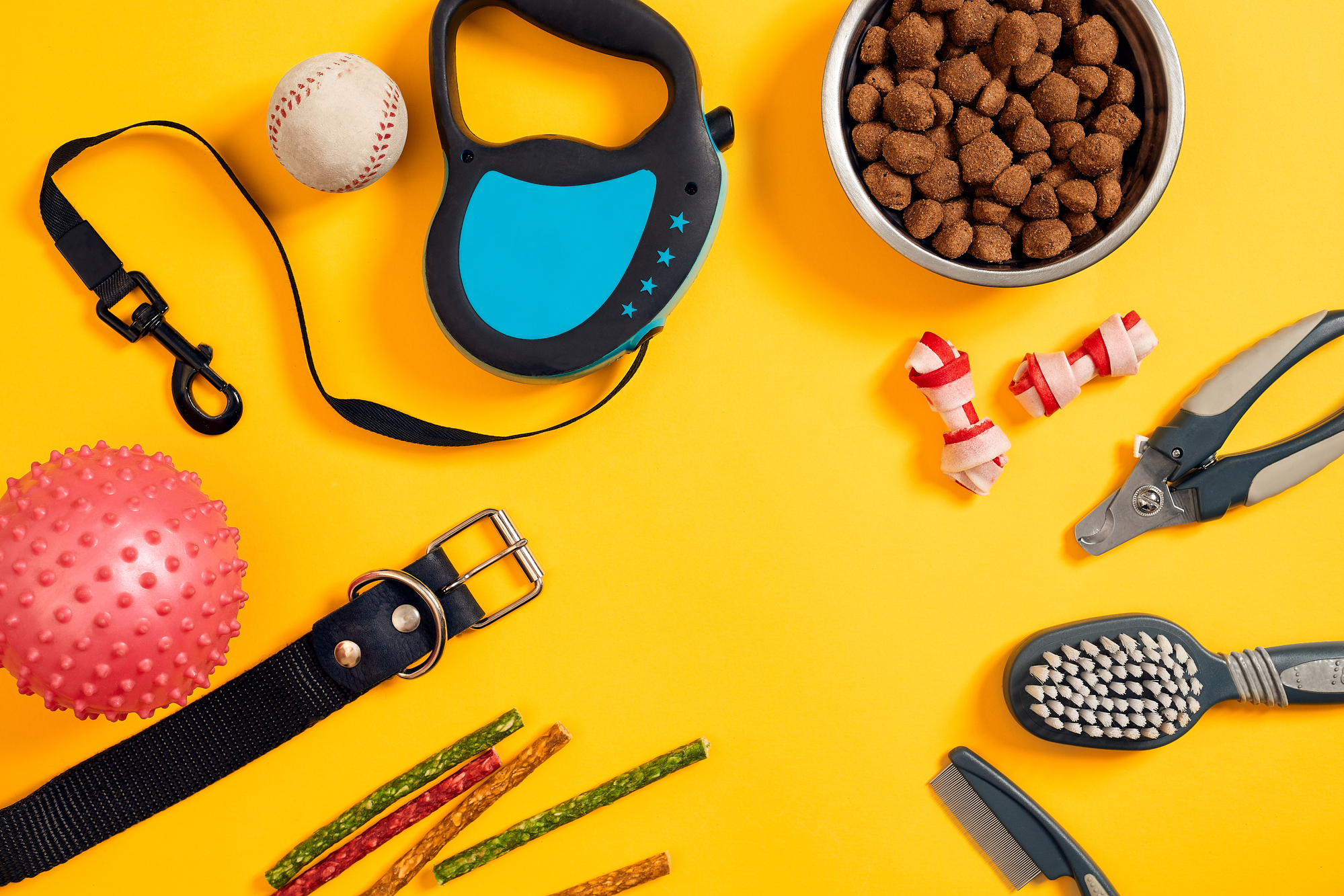 Dog ownership is becoming more prevalent across the world, along with the market for dog gifts and accessories. When starting a dog accessory business, consider gaps in the market you can fill and how you can tap into dog owners' desire to pamper their pooches in order to sell products.
How to Start a Dog Accessory Business?
1. Identify a Niche Audience
A niche audience is an audience made up of people with a very specific set of interests and needs. These interests and needs often dictate the types of products they buy.
For example, women over 50 are not a niche audience, because billions of people fall under this category.
Women over 50 who love fashion and keep fit with regular yoga (so want fashionable yoga clothes that are comfortable for older people) are a niche audience.
The more niche the audience you appeal to with your dog accessory business, the easier it is to come up with a suitable product, and the less competition will already exist on the market.
Here are some examples of niche audiences:
Example niche audience: Millenial women who use organic cosmetics as a means of relaxation and are Instagram influencers.
Example niche audience: Health-conscious small dog owners whose dogs are picky eaters.
1.1 Analyze Dog Accessory Niche Communities
To find your niche audience and open a dog accessory shop, start by looking through a handful of niche communities online to learn from them. You can find niche communities by searching social networks like Reddit and Facebook and finding groups and forums within them.
By carrying out this research, you'll get a good idea of the real-world problems that these groups face. Often, they use these communities to discuss existing products, so you'll get an idea of the problems with these problems then you can shape your dog accessory business product around solving them. This can also help you shape a marketing plan later down the line.
Here are some examples of dog accessory niche communities:
1.2 Find a Problem or a Market Gap
A problem refers to a problem that your niche audience regularly experiences that you'll look to solve with your product. A gap in the market happens when there's a problem or desire for a product, but the product doesn't yet exist on the market. Alternatively, some suitable products might exist, but they could have issues.
To open a dog accessory shop find problems or gaps in the market by undertaking extensive research into your target audience. If you have friends or family members with a dog, discuss with them the gaps they see in the market and the problems they face that don't currently have a solution.
Potential Market Gap: None of the dog accessories currently on sale both provide warmth and look stylish for fashionista dog owners.
Potential Problem: Dog accessories made from uncomfortable materials can be scratchy for dogs.
Potential Market Gap: Dog accessories made of cool materials for stylish dogs in hot climates.
Potential Problem: Dog accessories made from leather are not suitable for vegan/cruelty-free dog owners.
1.3 Formulate the Niche Audience
You'll now need to tie together everything you've learned about your target audience so far. Establish which audience has what problem and how bad the problem is. If there are current solutions already on the market, work out what's missing from the solutions or how you could bring a unique twist to the market.
Define your target audience around the problem or gap in the market you identify, and find out more about them from online research and focus groups. You could set up focus groups with the promise of a free item once you've created your dog accessory shop.
Here are some examples of niche audiences:
Fashionistas with Instagram pages for their dogs + most of the accessories already on the market are made for practicality, not style.
Dog owners who are conscious of their pet's wellbeing + they need products such as leads that cause as minimal discomfort as possible to dogs.
Eco-conscious dog owners who don't want to create waste by buying tons of accessories + they need reversible accessories with a pattern on each side, for maximum usage.
Owners of anxious dogs + they need the comfiest accessories possible to make the dog feel safe.
2. Find a Niche Product
At this point in the process, you should know your target audience, the problem they're facing, and what possible solutions could look like. Now it's time to find the niche product to correspond with your research.
Remember, the niche product should solve a problem or fill a gap in the market. If you opt for a saturated market with products that offer nothing new, you'll struggle to convince consumers to choose your product instead of your competitors'.
Here are examples of niche products for your dog accessory shop online.
Example niche product: Dog collars featuring prints by local artist for fashionista dog owners.
Example niche product: Dog coats made from wool for dogs in cooler climates.
Example niche product: Dog rain ponchos to keep dogs in wet climates dry.
2.1 Analyze the Competitors
Don't be nervous if there are existing competitors in your niche. Competition means there's a demand for your product, and therefore there's money to be made. Don't copy competitors in your field, but do use them for inspiration for your business, products, and marketing plan.
Research small dog accessory businesses similar to yours online and look at their social media sites for inspiration on digital marketing tips, branding, and the types of products that sell best. Look at the solutions they're offering, and consider how you could create even better solutions. It's also worth checking their pricing, so you can price yourself competitively in the market.
Here are three popular dog accessories competitors:
2.2 Unique Selling Proposition
A unique selling proposition (commonly referred to as a USP) is something attractive to consumers that sets you apart from competitors and gives consumers a reason to choose your dog accessory dealer over others.
Here are the USPs of five well-known brands:
Pizza Hut: This restaurant offers affordable pizza and an iconic all-you-can-eat pizza buffet that other pizza places don't offer.
Tommy Hilfiger: This brand appeals to a niche set of affluent Americans who enjoy clothes with a preppy, nautical look.
Converse: Converse creates non-sporty trainers with a flat base and signature fabric top.
Levi Strauss & Co: This brand has created a reputation for having the highest-quality, most comfortable, andmost durable jeans on the market.
Here are the USPs of the competitors we listed:
NordStrom: This brand creates dog accessories with a minimalist, Scandinavian look.
Pet Smart: Pet Smart is known for accessories that appeal to owners on a budget, and they regularly have deals.
Approved by Fritz: This brand's products are luxurious, made from high-quality materials, and have bright colors that stand out from regular, neutral-colored collars.
2.3 Choose a Product
At this point in the process, put all of your research together to find the ideal product for selling dog accessories. Remember, the product should either solve a problem or fill a gap in the market – ideally both.
If you have a few products in mind and you're stuck between which one would sell best, consult either with dog owners you know, or by putting together a focus group of dog owners who would be interested in dog accessories.
Here are two examples of a niche audience, the problem they have, and the product they'd need to solve that problem.
Owners of anxious/rescue dogs + the dogs feel nervous going out in a harness + they need a comfortable harness that works similarly to a weighted blanket.
Fashionista owners who want their dogs to look stylish every day + they need a set of seven collars, one for each day, so their dog can always look different.
2.4 Find Suppliers
Suppliers can make or break your business, so it's crucial you find ones you can trust. If you opt for an incompetent supplier, delays in the supply chain and poor-quality products can negatively impact your customer service reputation.
To source dog accessories to sell, research suppliers for your niche online. Ask other business owners in a similar field which suppliers they use, and get in touch for some quotes. Before committing to working with any suppliers, read their online reviews and check their ratings. If they get poor feedback from other businesses, look elsewhere.
Here are five popular wholesale suppliers of dog accessories.
3. Define Sales Channels
Once you've theorized about your target audience and you've decided what your niche product will be, you'll need to establish how customers will actually buy your product. Every target audience is different, so factor this in when deciding how to sell. If you're aiming your products at Gen Z and millennials, for example, consider opening a dog accessory shop on social media sites.
If you know business owners in your personal life or a local community, ask them for their recommendations on the best sales channels. Once you've established a sales channel, ask those closest to buy your products and share your online store with others.
Here are some examples of potential sales channels:
Your personal: Facebook friends, Instagram followers, colleagues, schoolmates
Paid advertising: Google ads, Facebook ads, Tiktok ads, Twitter ads, Pinterest ads
Marketplaces: Amazon, Etsy, Ebay
Communities: Facebook groups, Reddit, Quora, forums
Other: Blogging, Craigslist, promoting in the real world (e.g. schools, workplaces, malls)
Related: How to Start a Glitter Business?
4. Identify the Minimum Budget
There's a common misconception that you need tens of thousands of dollars to start a business, which puts people on a smaller budget off selling dog accessories for a living.
The truth is, all you need in the first instance is enough money to reach $1000 in sales. Once you've done this, the bank will be more likely to lend you money in the future.
To get to the first $1000 of sales when selling dog accessories online, all you'll need is enough money for $1000 worth of stock, any marketing and shipping costs, and the subscription price of an eCommerce platform.
4.1 FFF and Personal Money
This financing method is one of the most common, and it's suited to people who are unable to get a bank loan to sell dog accessories. Personal money includes your current salary and money you've saved up over the years. FFF refers to friends, family, and fools – fools meaning people with little investment experience.
In many cases, close friends and family may even give you the money without asking for a return on investment. To get the money using this financing method, simply send around an email to FFFs explaining your business plan, outlining how much money you need to get there, and asking for support.
4.2 Bank Loans
Getting a loan from the bank to get into dog accessories is an excellent way to finance your business because you can borrow a substantial amount of money, but it's not suited to novice business owners who are taking a large risk. The last situation you want to be in is one where you're unable to pay back the money.
Banks are more likely to lend to trustworthy borrowers, so make sure your business plan is foolproof. If you have previous experience running a successful business, emphasize this to the bank to make them more likely to trust you. Don't forget, bank loans incur interest, so factor that into your costs with this financing method.
4.3 SBA Guaranteed Loans
The Small Business Administration tries to make it as easy as possible for entrepreneurs to borrow money, so they can support budding business owners wanting to sell dog accessories online.
Banks don't like lending to business owners when they think there's a chance they'll lose money if the business fails. The SBA reduces the risk by guaranteeing the loan, meaning they'll offer up collateral in the case of you being unable to repay your loan.
This makes the bank feel more comfortable lending to you, which improves your chances of getting a loan. To find out more about SBA-guaranteed loans, and find out if you're eligible, check this page.
4.4 Government Grants
A grant is a payment you don't have to repay that you receive for studying, opening a business, or various other endeavors. Governments give out grants to support certain business owners to open a new business without needing a loan from the bank or other financing methods. This is a great option if you're low on personal money and can't get a loan.
Most government grants are dedicated to businesses that benefit the community in some way, whether that's through extensive research and development or running as a nonprofit business. To find out whether your business idea might be eligible for a business grant from the government, check this page.
4.5 Crowdfunding
Crowdfunding involves raising money from people (usually online), and it's a way to sell dog accessories online without having to take out a loan or use any of your personal money. Although it's commonly used to raise money for charity, crowdfunding can also be used to support personal costs for life events like starting a business or traveling.
To crowdfund money for your dog accessories business, set up a crowdfunding page with a third-party website like 'Kickstarter' or 'GoFundMe.' Send the page to all your email contacts, and share it on social media. Ask your friends and family to do the same in order to spread the message further.
5. Form a Legal Entity
Forming a legal entity is crucial to become a legitimate business and avoid getting into trouble with the law. If you're worried about getting the legalities wrong for your dog accessory small business, consult a professional for advice.
There are various business structures you can choose from for your legal entity, but LLC is one of the most popular and easiest. This structure can help minimize risks. In an LLC, a business owner is protected from the debts and liabilities of the business itself, so if you're worried about legal implications, opt for this business structure. 
5.1 Business Name
Choosing the right business name is important because it forms a crucial part of your brand identity, but it's not necessary to get it right the first time. You can change your business name later on if you no longer feel it fits the business.
To come up with a suitable business name, research dog accessory shop names from other businesses. When you've decided on several dog accessory business names, ask dog owners that you know which one they prefer. If you don't have friends or family members with dogs, set up a focus group of your target audience and run business name ideas past them.
5.2 Choose a Business Structure
When starting a dog accessory business, there are multiple business structures to choose from for your business, each with its own set of advantages. Here are the most common business structures in the US:
Sole proprietor: A sole proprietor owns an unincorporated business by themselves.
Partnership: A partnership is when two or more people create a business, they each contribute and share the profits and losses.
Corporation: In a corporation, shareholders can give money or property in exchange for the corporation's capital stock.
S Corporation: S corporations pass corporate income, losses, credits, and deductions to their shareholders for federal tax purposes.
LLC: An LLC protects its owners from personal responsibility for its debts or liabilities.
5.3 Register for Taxes (EIN)
Every business needs to register for taxes to be legally compliant. If you're unsure how to register for taxes and fill out your tax return, you can work with an accountant. Bear in mind, however, that having an accountant will incur extra costs to your business, but they can sometimes save more money than they cost, thanks to their knowledge about expenses.
Depending on the business structure you opt for, the rules on taxation might be different. An LLC, for example, offers more flexible taxation options than other structures. The amount of tax you pay can also depend on what state you live in, so bear this in mind when establishing the tax you'll pay.
5.4 Bank Account & Credit Card
Having a business bank account and credit card makes it easier to distinguish your business transactions from personal ones. It also gives you access to a useful form of emergency credit, makes it easier to keep records, and can make your business appear more legitimate to customers and clients alike.
Most major banks offer the option for a business bank account or credit card, and with some, you can even get rewards for opting to bank with them. Before committing to a particular bank, research the cheapest interest offered by each bank and ask for advice from other business owners with business bank accounts.
5.5 Insurance & Accounting
Insurance is necessary (or at least desirable) to protect your business from unwanted lawsuits. There are various types of insurance you can opt for, but these are some of the most popular:
Business owners policy
Product liability insurance
Professional liability insurance
General liability insurance
Home-based business insurance
Most major insurance companies will offer business insurance alongside personal insurance. Look for the cheapest rates and read reviews and testimonials to see if the insurance companies provide a good service. If you're in doubt about which type of insurance your dog accessory company needs, consult a professional or ask other business owners in your field.
5.6 Permits & Licenses
Some businesses need permits and licenses to carry out their sales. Typically, this only applies to businesses selling products that are regulated by a certain governmental body. This, for example, would include products like pharmaceuticals, alcohol, and firearms. Since your dog accessory business online is unlikely to be selling regulated products like these, you may not keep a permit or license.
However, state governing bodies can have different requirements from the ones at the federal level. With this in mind, check with your local state legislator whether or not you'll need a permit or license. If you do, factor in the possible cost of at least $50.
6. Set Up the Shop
At this point, it's time to set up the transaction engine – the website itself. You don't have to start with a website in the first instance – you can create a dog accessory business on Instagram if you want to reduce costs.
However, it's definitely worth setting up an eCommerce store in the long run for maximum reach. You can do this using an eCommerce platform like Shopify or WooCommerce. These platforms are suitable for beginners, so it's fine if you don't have previous experience. To attract customers to your online store, using digital marketing techniques and SEO to make your store easier to find.
6.1 Define the Pricing
While pricing is an important part of your dog accessory brand business plan, you don't need to overthink it. If your pricing doesn't work at first, you can always adjust prices down the line.
To define your pricing in the first instance, you'll need to factor in your costs and ensure your pricing gives a profit margin. Once you can be sure you'll make enough for a decent profit margin, decide whether you want to cultivate a budget or a luxury brand identity, or somewhere in between.
If your brand will be luxury, set your prices higher. If you want it to be affordable, keep prices low.
6.2 Create an Online Store
Creating an online store isn't just for professional developers and graphic designers – everyone can do it. It's easiest to use an eCommerce platform like Shopify, which allows you to create your own store, complete with customization.
You can upload a custom theme or choose a theme created by Shopify. You can also add integrations and apps to your store, such as shipping tracking apps, to improve functionality and add features.
If you're working to a small budget at first, opt for one of the cheapest pricing plans. If your dog accessory online store becomes successful, you can spend more money on complex features with a premium pricing plan later down the line.
6.3 Order Inventory
Once you've created the basics of your shop, you'll need to order inventory from your suppliers. Discuss with your supplier in advance how long it will take for the items to reach you. Otherwise, you risk leaving it too late to order inventory and disappointing customers with long wait times.
Don't order too much inventory before you're certain you can sell it all. Opt for about $2000 worth of sales, to begin with, then once you've successfully sold that, you can order more. You'll also get a useful idea of how quickly stock sells out and which products are the most popular.
7. Reach First $1,000 in Sales
If you've followed all the advice until this point, you'll have a well-thought-out business plan with a perfect product for your audience, legal compliance, and ideas for your marketing strategy.
Now all you need to focus on is making the first $1000 in sales. Once you've made this, you'll have an established customer base, and banks will be more likely to give you money. To reach this first milestone, share your new store on social media and send it to all your email contacts.
Ask your friends and family to buy products and leave reviews online to attract more new customers. Take photos of the accessories being worn by real dogs for social proof, and post them to your website and social media pages.