12 Best Ecommerce Chatbots Actually Worth the Money (2023)
Keeping on top of eCommerce customer service can be time-consuming, especially when many customers get in touch with the same query. To free up more of your time to grow your business, invest in a chatbot to respond to common queries.
The most important things to look for in a chatbot are omnichannel messaging support, ease of use, and good use of context in responses. These are some of the best ecommerce chatbots currently on the market.
Best Ecommerce Chatbots
1. Tidio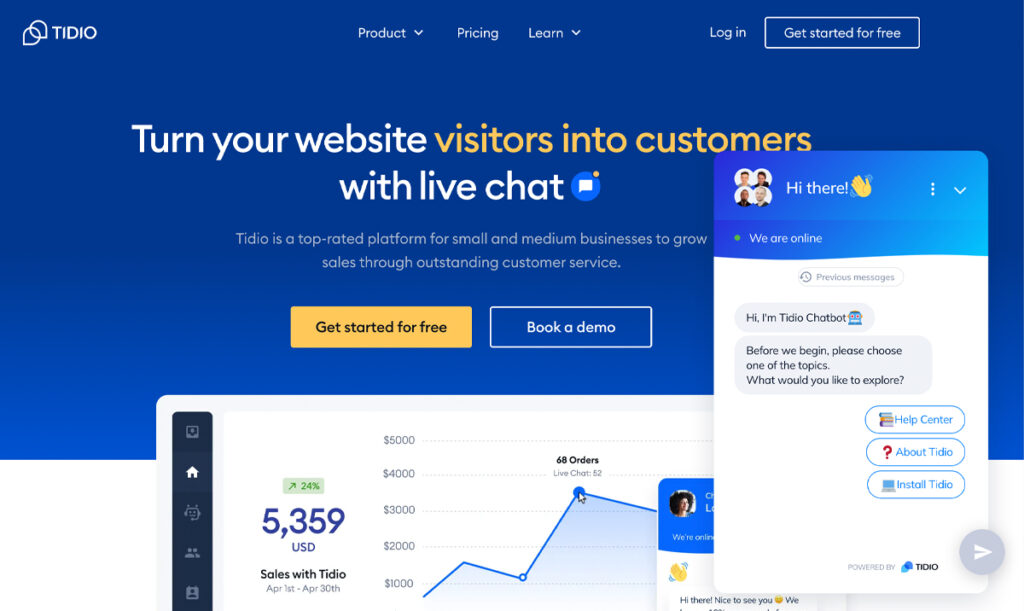 Best For
Tidio combines live chat and chatbot features for streamlined customer service, making it the best ecommerce chatbot for businesses that want to grow.
Tidio seamlessly integrates with most of the major eCommerce platforms, such as SquareSpace, Shopify, and PrestaShop, making it easy to add to an existing store. This makes Tidio the best chatbot for Shopify and the best chatbot for Woocommerce.
For the live chat feature, there's a pre-chat survey so you can collect the client's data before the conversation starts. There are also multilingual features and offline messaging for when you're not available.
Pricing
There's a basic free plan, which allows customers to get started without paying a cent to see if they like the chatbot. The plan has limited features though, so you'll want to upgrade for more complex features and functionality. The cheapest plan is just over €15 per month.
This ecommerce chatbot platform is not the cheapest, but its high price offers value for money, thanks to all the features Tidio offers.
What We Liked
It's incredibly easy to use, even for beginners.
There's a live chat feature as well as a chatbot feature for flexibility.
The interface is customizable, so you can bring it in line with your branding.
There's a free plan, which is perfect for beginners on a budget.
The platform comes with templates that you can adjust.
What Can Be Improved
The platform doesn't offer multiple triggers for one bot.
If a user leaves the page before the operator replies, the user doesn't get notified.
The message box only refreshes when the page is open, so not ideal for users with multiple tabs.
2. Chatfuel
Best For
Chatfuel is one of the best ai chatbot for ecommerce customer service for eCommerce store owners looking for an omnichannel service. With the help of Chatfuel, you can contact customers across Facebook and Instagram, as well as your website.
Chatfuel promises that 98% of your customer enquiries will be handled through the chatbot, which saves you valuable time and means you'll have to reply to fewer queries. You can set up pre-made answers for FAQs so you don't receive the same questions repeatedly.
Pricing
Chatfuel is relatively well-priced. There's no free plan but the cheapest plan is affordable, at only $11.99 per month. For a custom solution, you'll need their enterprise plan, which starts at $199 per month, one of the most expensive pricing plans on the market.
What We Liked
You can provide support across social media channels as well as your website.
The interface is easy to use and understand.
Chatfuel offers personalization to bring the chatbot in line with your branding.
All of Chatfuel's advanced features make for a powerful bot.
There are various automation choices to suit different customer needs.
What Can Be Improved
There are only two options for price plans that scale up.
The templates could be of higher quality.
Some features are missing from the free trial, so it's hard to get an accurate sense of the ecommerce chatbot.
3. Manychat
Best For
Manychat is best for eCommerce businesses wanting to interact with customers via SMS, Instagram, Whatsapp or Facebook.
There's no coding experience required because the chatbot builder is drag and drop. This makes it easier for beginners to build a bot, and saves you time to spend growing your business.
With the use of automation, you can capture details in your conversations which can then be used to market to customers. Manychat also integrates with many existing tools, such as Shopify, MailChimp, and HubSpot.
Pricing
Manychat has a free plan that features some of the chatbot's functionality. This pricing plan is ideal for beginners looking to see if Manychat can supercharge their store's sales. The Pro plan is reasonably priced at $15 per month and includes unlimited contacts.
What We Liked
Chatbot flows are straightforward to create – no coding needed.
You can contact customers in places other chatbots don't integrate with, such as WhatsApp.
There's a free video course to help you get started.
The company blog is full of helpful tips for marketing via various social media channels.
The pricing is reasonable, so you'll save money to be used elsewhere.
What Can Be Improved
There's currently no option to create a chatbot for your website.
The analytics tools could be more powerful.
The platform gets expensive quickly if you have an especially large audience.
4. Ada
Best For
Ada is the best chatbot for ecommerce for businesses with multiple teams covering different topics. Ada promises to automate thousands of conversation topics, leading to a 98% reduction in wait times for customers.
If customers don't have to wait as long, they'll be happier with your customer service and more likely to buy from you again. There's also an automated FAQ feature, so you don't need to respond to emails or phone calls for questions that are asked all the time.
Pricing
Ada doesn't list their pricing on the company site; you have to get in touch directly with the sales team for a quote. There are three pricing plans – core, advanced, and pro. Each pricing plan has more features than the last as the price goes up.
What We Liked
The drag and drop interface allows you to build a personalized chatbot with no coding.
There's a translation feature, so you can communicate with customers in other countries.
Real-time analytics give you insights into your customers.
Customer support is always quick and helpful.
You can provide the chatbot with multiple answers for one question.
What Can Be Improved
The pricing plans could be more transparent.
There's currently no free plan or free trial.
There could be more ability to customize reports to see exactly the data you want.
5. Octane AI
Best For
Octane AI is the best ecommerce ai bot platform for store owners who want to create fun, shoppable quizzes to increase revenue.
With this platform, you can create quizzes and surveys that recommend products, collect feedback, see if your product is a good fit, tell a story, and more.
Not only does Octane AI allow you to create quizzes to improve your conversion rate, but it also helps you collect customer data. You can then use this customer data to better market to existing and potential customers.
Pricing
You pay a certain amount depending on how much revenue your business pulls in. Compared to other eCommerce platforms, the pricing is expensive. The cheapest pricing plan for businesses with a revenue of less than $1 million is $50 per month.
What We Liked
Octane AI's website features tons of resources to optimize your quizzes and surveys.
Octane AI allows you to collect valuable data from your customers.
The quizzes are personalizable and easy to create.
With Octane AI, you can grow your marketing list more quickly.
The quizzes help customers find their perfect fit, which reduces returns.
What Can Be Improved
There's currently no cheap plan for businesses on a budget.
The aren't extensive chatbot features as there are with other platforms.
There's a free trial but no free plan.
6. Amelia
Best For
Amelia is the best ai chatbot for ecommerce business owners looking for a human touch from their chatbot.
Thanks to machine learning, Amelia constantly learns from human interactions, so the chatbot is constantly becoming more knowledgeable about how to interact with your customers. This means you'll get a return on investment, as the chatbot will become more accurate as time goes on.
Amelia also speaks multiple languages, so you'll be able to provide easy support for customers in another country.
Pricing
Amelia doesn't advertise its chatbot prices anywhere on the site. To work with Amelia, you need to contact the sales team directly. This pricing method suggests that the business takes a more custom approach to each client they work with.
What We Liked
Amelia is constantly learning, so you're investing in a chatbot that's continuously improving over time. She's the smartest ai chatbot.
Amelia has been shown to block malicious threat actors from socially engineering their way into customer accounts.
Because Amelia is so advanced, using her can save staffing costs on customer service costs.
Amelia can benefit and work with any department in a business.
The team behind Amelia are helpful and knowledgeable.
What Can Be Improved
The pricing could be more transparent for users of this conversational ecommerce chatbot.
The platform is more complex than others, so not ideal for eCommerce store owners wanting to keep things simple.
The agent tool integrations could be better.
7. MobileMonkey
Best For
MobileMonkey is the top ecommerce chatbot for nurturing leads and improving your marketing strategy.
MobileMonkey works with Facebook Messenger, SMS messaging, and native web chat, so you can easily contact customers across multiple channels. The platform captures leads and provides product recommendations, optimizing your marketing funnel at every stage of the user journey.
The chatbot strikes exactly at the right time during the marketing funnel to increase conversion rate. Plus, message history is retained in one inbox, no matter which channel the customer is using.
Pricing
Chatbot for ecommerce, MobileMonkey, has three different types of pricing plans depending on what you want from the platform. For messaging automation for social media platforms, you can expect to pay $19 per month for the cheapest plan, which is around average for this type of product.
What We Liked
There's a large number of integrations available for MobileMonkey.
This chatbot works especially well with Facebook, so it's perfect if your key demographic use Facebook.
MobileMonkey's basic functionality and affordable price make it perfect for small businesses.
It's easy to use.
You can access your conversations across multiple channels in one inbox.
What Can Be Improved
The reporting is minimal and could be more detailed.
There's no built-in lead generation.
Scalability for MobileMonkey would be slow. There isn't as much potential for your use of MobileMonkey to grow exponentially.
8. Flow XO
Best For
Flow XO is the best chatbot for ecommerce customer service if you want your chatbot to display your company's sense of humor. With Flow XO, you can introduce multiple workflows that suit different scenarios. You can have a more professional workflow, for example, for serious moments, and a more lighthearted one to show off your brand's personality.
You can even integrate a Google Sheet featuring jokes to make it easier. You can also use flow XO to gather data about a customer before beginning an interaction.
Pricing
This online shopping chatbot has a free option, so you can get started without paying anything, then increase your pricing plan as your needs grow. If you need to scale up your business, you can move onto a paid plan. Flow XO's plans start at $19 per month.
What We Liked
You can accept payments via your chatbot, saving time elsewhere.
The pre-filter leads help your business understand its target audience.
Flow XO is omnichannel, meaning it works across multiple channels such as social media and your website.
Flow XO can trigger conversational flows from keywords alone.
The free plan is packed with features, so free users don't miss out.
What Can Be Improved
Building bots on Flow XO is more complicated than it is with other chatbot experience platforms.
You can't segment your audience using Flow XO.
Flow XO's functionality benefits from the help of third-party tools.
9. ActiveChat
Best For
ActiveChat is the best shopping chatbot for eCommerce store owners who want three products in one: a chatbot, live chat, and a conversational analytics tool.
ActiveChat allows you to either leave your customer service to chatbots or have your team take over. If anything goes wrong during the chatbot process, a member of your team can step in and take control of the situation.
The chatbot builder is drag and drop, so it's incredibly easy to use, and you won't waste valuable time using coding or setting up a complicated bot.
Pricing
The pricing is volume-based, so ActiveChat will charge you around $0.001 per conversation. This pricing setup is great for small businesses that get very few enquiries, but it's not as relevant for larger businesses.
Larger businesses can contact the platform directly for a custom quote.
What We Liked
If you only have a few interactions, you won't pay above the odds for use of a chatbot.
Out of all the eCommerce chatbots we've looked at, ActiveChat is one of the easiest to use.
The customer support team are responsive and helpful.
The bot integrates easily with eCommerce platforms.
You can keep track of what customers are doing on your site.
What Can Be Improved
There's a free trial option, but no free plan.
The machine learning could be more advanced.
The chatbot and live chat builder are the better of the three features than the analytics.
10. Giosg
Best For
This ecommerce bot is one of the best chatbots for businesses that want to create a base of loyal customers.
There are multiple features available from Giosg. As well as a chatbot that helps you respond to customer queries more quickly, you can bring your website to life with interactive pop-ups that keep site visitors engaged.
The platform has targeting capabilities, which personalize the experience for each customer. With more personalisation at every step of the customer journey, including it in your site makes each individual customer feel more valued.
Pricing
Giosg's pricing depends on an individual company's needs. To get a quote for your particular business or project, you'll need to get in touch directly with the sales team.
This unique approach makes it harder to know whether or not Giosg offers good value for money.
What We Liked
Because the approach is custom, you'll receive a custom plan from the sales team to help you reach your goals.
There's 24/7 support from the helpful customer service team.
You can get real-time chat and interaction reporting.
The chatbot is omnichannel, so you can use it at all points of contact.
You can enrich your bot with video content.
What Can Be Improved
The pricing could be more transparent, or they could offer a free plan.
You have to add the chatbot platform to your website by adjusting the HTML, which can be complicated for beginners.
The custom support feature doesn't work well without integrations.
11. Haptik
Best For
The ecommerce ai chatbot, Haptik, is suitable for businesses that want to use WhatsApp to communicate with their customers. Conversing with consumers via WhatsApp can make interactions feel more personal and make responses quicker because people use WhatsApp more regularly.
Haptik also allows you to contact customers from Instagram, Facebook, and your site. Haptik boasts some of the best NLU (natural language understanding) in the business, meaning its machine learning algorithms offer the best technology. The better the AI, the less manual input you'll have to do.
Pricing
Haptik doesn't advertise the pricing online, but the pricing plans are listed on the automated chatbot website. The plans are Starter, Growth, and Advanced. The Starter plan is the cheapest, and is suitable for up to 240,000 conversations annually.
What We Liked
The chatbot is advanced, meaning it's one of the best at keeping customers happy.
There's tons of helpful documentation to support you in setting up the chatbot.
The chatbot platform is very easy to use.
Smart funnels help to track the customer flow.
This platform integrates with WhatsApp, unlike others.
What Can Be Improved
The AI isn't as good at recognizing colloquial language.
Despite the complexity of the chatbot, human intervention is frequently required.
The bot has been prone to failing from time to time.
12. Gorgias
Best For
This chatbot for ecommerce is best suited to businesses looking to save time with automation features. Gorgias can fully automate and close tickets, which saves you time spent responding to frequently asked questions.
As well as offering an automated chatbot, Gorgias helps you to level up your customer service game with all your support tickets displayed in one centralized dashboard. If you have several staff members in your customer service team, this will help improve efficiency. Your customer service agents will be able to pick up where their colleagues left off.
Pricing
The pricing is reasonable if you're a small business, but becomes expensive quite quickly for bigger businesses. The Starter plan is $10 per month, but the second most expensive plan is $60 per month. The Advanced plan, which allows for 5000 tickets per month, is a whopping $900 per month.
What We Liked
The platform provides omnichannel support so you can reach customers across different networks.
There are tons of automation features to save you time.
The analytics features help you keep track of your progress.
It enables easy access to all tickets for better team working.
The 24/7 customer support is excellent.
What Can Be Improved
This seller chatbot is one of the most expensive options on the market.
There's no free plan.
If you override the monthly ticket limit, you'll have to pay extra for your plan.