12 Best Shopify Themes For Clothing Brands (2023)
Finding the right Shopify theme for your online clothing store will help you showcase your brand with ease without requiring you to learn how to code.
The best Shopify themes for clothing brands will save you time and money that you would spend on hiring a web designer, increase sales conversions on your website, and come with valuable plug-ins that help save you money on third-party applications.
Best Shopify Themes For Clothing Brands
1. Booster
Many view Booster as the best Shopify theme for fashion stores, especially given the fact that it has a free trial and great customization abilities.
The aesthetic of this Shopify clothing theme is sleek and modern, which goes well with many popular brands today in the fashion niche.
People like Booster for the CRO features that store owners can leverage to increase sales, especially compared to other free themes. Overall, there at 8 themes that users can choose from with Booster, while most have just 3.
With every theme, you get a Demo Store so that potential users can take a look at what the theme would look like in practice before buying it.
What We Liked
'Lookbook' feature that creates shoppable images like what you find on Instagram
Homepage countdown when approaching major sales or product launches
The wide variation of themes within the Booster theme
Customizable checkout cart page to boost conversions
Very feature-rich theme that doesn't require users to purchase other add-ons
What Can Be Improved
Booster is a third-party theme, not native to Shopify, so integration can be tricky
There is no live chat feature available on Booster
Some of the Child Booster pages aren't as well-designed as others
Price: Starting at $179/year
Avg. Rating: 4.1/5 stars from 59 reviews
Homepage Layouts: 8
Product Page Layouts: 2
2. Debutify
Debutify is a Shopify fashion store that is quickly growing in popularity in recent years. It is easy to set up, and users like it for its helpful tutorials that allow even beginners to get a site up and running.
Many like that there is a free version of the site, though you will need to pay for the subscription to get some of the more advanced e-commerce features.
Some of their great tools to help store owners boost their conversions include a product research tool and dropshipping tutorial so you can launch your store to success.
What We Liked
Easy to navigate and set up for beginners who haven't built a site before
Mobile optimization is great and fast loading speeds
Site owners get automatic updates when they are rolled out by the development team
They have a good refund policy, which all themes don't offer
There are detailed tutorials to help you get started
What Can Be Improved
The free version is great but lacks some key features that fashion brands need
The top-tier plans with all features is on the more expensive side
Not very many niche-specific themes for e-commerce stores to choose from
Price: Starting at $19/month
Avg. Rating: 4.8/5 stars from 9,571 reviews
Homepage Layouts: 5+
Product Page Layouts: Customizable from home page layout
3. Flex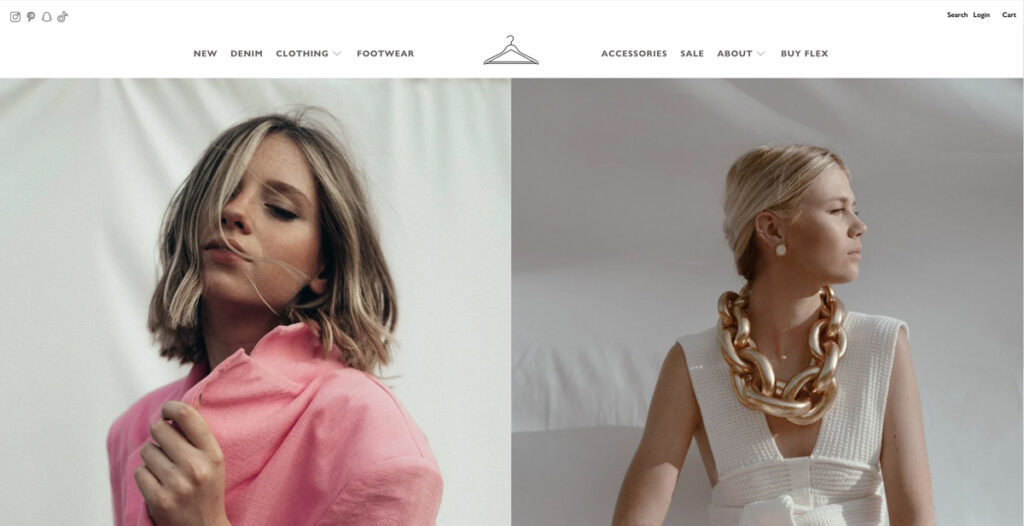 With the Flex theme for a clothing brand on Shopify, site owners can access a lot of flexibility and customization capabilities. Nearly every element on the theme can be customized to fit your brand.
The theme includes a wide range of advanced features to help your store increase conversion rates. Flex comes with 13 pre-designed Demo Stores that you can work from to cut down on your workload and get a site up quickly.
Overall, the customization features of this theme is what sets it apart from others, so fashion brands can perfectly tailor it to fit their brand identity.
What We Liked
Immense amount of customization is possible with the Flex theme
They offer a 14-day money-back guarantee if you aren't satisfied with the theme
Megamenu option makes your store easy to navigate for site visitors
Even the icons are customizable for complete branding of the website
The themes are very eye-appealing and professional-looking
What Can Be Improved
Some other Shopify fashion theme options have more pre-designed layouts
The theme can be a bit tricky to set up, especially for beginners
The upfront, one-time price tag can be out of reach for some
Price: $495 one-time fee
Avg. Rating: 2/5 stars from 14 reviews
Homepage Layouts: 13+
Product Page Layouts: 3+
Related: 12 Best Converting Shopify Themes That Actually Convert
4. Shoptimized
Shoptimized is the best Shopify theme for clothing brands that want a focus on customer service and sales optimization.
The theme features unique designs and great features to help you unlock sales and boost conversion rates. Overall, the layout of the theme is conducive to the customer experience and has good navigation.
All major browsers and devices are supported by Shoptimized, which is a responsive theme that easily becomes mobile-friendly with its fluid grid system. The product pages are highly customizable so you can highlight all the great features of your apparel with ease.
Shoptimized supports great image quality for high-resolution screens, which helps fashion brands expertly showcase their products online.
What We Liked
Easy integration with Google Analytics for conversion optimization data
Shoptimized includes a number of different layouts that you can choose from
Easy video integration to include product videos and make the page more interactive
The theme is retina ready for sharp images of high quality
Convenient megamenu for easier navigation
What Can Be Improved
This popular Shopify clothing theme isn't available for free
The large amount of customization capabilities can be time-consuming
Some note that there are limited options for font type
Price: Starting at $167 one-time fee
Avg. Rating: 4.3/5 stars from 71 reviews
Homepage Layouts: Customizable basic layout
Product Page Layouts: Customizable basic layout
5. Retina
The Retina Shopify clothing theme is a great option for apparel brands looking to increase sales conversion. Retina is available in four different themes, which are very unique and distinct from one another.
Overall, the Retina theme caters to high-quality design and sales conversions no matter which option you choose.
There is an easy-to-customize FAQ template which makes it easy for you to address customer questions and concerns before they even arise. Plus, the theme is very mobile-friendly and responsive to screen size, so it looks great on any device.
Many like it for the slideout cart feature, so visitors can edit their shopping cart from the homepage. Overall, Retina shows a clear preference for easy navigation and customer-friendly layouts.
What We Liked
The site theme is already optimized for large images, perfect for fashion brands
There is an affordable one-time fee, so no ongoing cost for subscription
There are many different header styles to choose from to fit your brand
The themes within Retina all look fantastic and professional
Great responsive theme and mobile-optimized
What Can Be Improved
SEO features on this Shopify clothing store could be better
There aren't as many urgency features as other themes
Sometimes the page loading speed lags and isn't as quick as others
Price: $220 one-time fee
Avg. Rating: 4.8/5 stars from 279 reviews
Homepage Layouts: 4
Product Page Layouts: 4
6. Mojuri
Another theme for a fashion brand on Shopify is Mojuri, which is specifically catered to jewelry and apparel sellers.
They have great features to help you craft a website that is easy to navigate for customers and pushes them towards a sale. This includes suggested products, advanced media on the product page, a mini cart on the side of the home page, and more.
The designs are more feminine with the Mojuri theme, so it could be a great fit for a woman's clothing brand.
Plus, it has an amazing blog feature and is very mobile friendly so customers can easily access your site from anywhere.
What We Liked
Great blogging and SEO features to help boost your SERPs
One click checkout available to help remove friction from customer sales
Easily customizable with your branding, logo, and more
Right to left web page support for different languages and regions
Good feminine designs for women's fashion brands and jewelry stores
What Can Be Improved
The softer designs mean it may not be the best Shopify theme for a clothing store that's not women's apparel
Some customers note that customer support response times are slow
Price: Starting at $69
Avg. Rating: 4.6/5 stars from 7 reviews
Homepage Layouts: 8+
Product Page Layouts: 9+
7. Shella
Shella is a very feature-rich Shopify theme for clothes stores. The theme is aimed at driving more sales for your store, and the large library of features means users can save on their subscriptions for other third-party apps.
Some of the great tools that you can implement on Shella to increase sales conversions include a price countdown, stock count, sticky promotions, and suggested product recommendations.
The sense of urgency that Shella features provide means that sites with this theme see higher conversions and order values. Plus, the platform is very easy to set up for dropshippers.
What We Liked
The theme supports multiple currencies which is great for global brands
It's easy to customize the Shella fashion theme on Shopify with different skins and designs
Simple uploading from Oberlo in just minutes
The megamenu feature is good for large brands with a lot of products
Great sales features to help store owners boost conversions
What Can Be Improved
The price tag only covers six months of support, and you have to pay more for extended support
The page loading time lags behind some of its competitors
They don't offer a free trial or money-back guarantee
Price: Starting at $69
Avg. Rating: 4.96/5 stars from 223 reviews
Homepage Layouts: 99+
Product Page Layouts: 99+
8. Zeexo
Zeexo is a luxury clothing Shopify theme with hundreds of demos to choose from, though it is more tailored to service-based businesses.
There are many available options for third-party app integrations, meaning you can get all your necessary tools in one location to manage your store with ease.
Zeexo comes with a custom live builder where you can combine and arrange hundreds of different elements to create a site that best fits your needs.
Many find taht the Zeexo theme offers a lot of great value at a reasonable price, making it a good choice for brands that are up and coming.
What We Liked
Supports multiple languages for fashion brands with customers around the world
One-click installation makes it easy to get started and make your site live
Very high loading speeds to improve site performance
Many helpful tutorials available online to help you build the site
Great marketing and sales tools are included to help you boost performance
What Can Be Improved
There is only 6 months of support included with a purchase of this luxury Shopify clothing store theme
The theme is mostly catered to service businesses, not apparel stores
Price: Starting at $59
Avg. Rating: 4.87/5 stars from 70 reviews
Homepage Layouts: 8
Product Page Layouts: 7
9. Wokiee
This is the best clothing Shopify theme for boosting sales conversions with a large selection of different homepage designs.
Many Wokiee users like the support that the customer service team provides, so they can quickly assist you with any issues you're having.
Another great feature of the theme is that they have sophisticated filtering capabilities so customers can easily and accurately find the products they're searching for. This feature tends to boost average order values for stores, and cause less friction for customers.
Wokiee comes with 99 different content blocks to customize your site with, so personalization is easy to do.
What We Liked
There are tons of different homepage layouts to choose from
They are constantly adding new themes and skins each week
The theme is easy to use for dropshippers
Good features included with the theme to help you save money on third-party subscriptions
Wokiee has high levels of customization possible
What Can Be Improved
Support is only included for 6 months, so you'll have to pay more for extended support after
They don't offer a money-back guarantee if you are not satisfied with it
There aren't very many localized features to add store locations
Price: Starting at $79
Avg. Rating: 4.98/5 stars from 449 reviews
Homepage Layouts: 90+
Product Page Layouts: 8+
10. Lezada
Lezada is the best Shopify fashion theme for the brands that want to be more creative with their sites and use multi-media to display their products.
This is a popular theme for online store owners, and it has hundreds of different homepage layouts that are highly customizable so you don't have to worry about having a theme that's overused.
There are many great features of this theme to help stores bring in more sales, like a countdown timer, breadcrumb banner, high-quality product video hosting, and more.
Overall, this highly responsive and mobile-friendly theme helps apparel brands get in front of customers no matter how they access the site.
What We Liked
Easy to use drag and drop page builder for easy customization
Can add 3D models and visuals to the product page for added detail
Right to left mode is supported on the Lezada theme
Great SEO features to help you optimize your site for search engines
Good support team that is available by phone or email
What Can Be Improved
The builder is simple, but it could be more advanced and sophisticated like others
There is a slight learning curve to getting started with the theme
Price: Starting at $79
Avg. Rating: 4.91/5 stars from 191 reviews
Homepage Layouts: 220+
Product Page Layouts: 3+
11. Belle
This is the best premium Shopify theme for clothing brands given the great flexibility and range of features they provide to sellers. The theme is tailored towards clothing and jewelry sellers, so it's the perfect match for anyone selling apparel online.
There are many features of the theme that help bring in more customer sales, including the advanced product filtering, powerful megamenu, coutndowns, fast loading speed, and more.
Belle users like the quality of the customer service team and how quickly they can get the support they need. There are also great blogging features and layouts to help you customize it and optimize for SEO.
What We Liked
They provide customers with 24/7 support so you can get the help when you need it
Advanced product filtering helps customers find exactly what they are looking for
Fasting load speeds on pages help boost site performance
A good number of demos available to help you launch your store quickly
Future updates will be automatically added to your site
What Can Be Improved
Support is only provided for 6 months, after that it will need to be purchased
The features can be a little advanced for new users
There can be a slight learning curve to utilizing the them to build your site
Price: Starting at $79
Avg. Rating: 4.94/5 stars from 144 reviews
Homepage Layouts: 20+
Product Page Layouts: 3
12. Goodwin
Goodwin continues to be one of the most popular Shopify themes for clothing stores. The pre-designed homepage layouts are design-forward and look great.
The theme is very easy to customize with its drag and drop editor. Plus, there's a simple one-click install to help you get your site up and running quickly.
Many users like the SEO features included with Goodwin which help them rank higher on search engines and bring in more traffic to their online storefront. The advanced add to cart button helps remove friction and make it easier for customers to make a purchase.
What We Liked
Seamless integration with Oberlo for uploading products
Simple customization of this theme with the drag and drop editor
Easy to publish customer reviews on your site for social proof tactics
Compatible with Shopify AR to add realistic renditions of products
Dynamic and advanced checkout buttons help remove order friction
What Can Be Improved
Customer support is limited to the weekdays
There could be more product pages like some of the other themes have
Need to purchase extended support on top of the theme rate
Price: Starting at $114
Avg. Rating: 4.92/5 stars from 80 reviews
Homepage Layouts: 14
Product Page Layouts: 4